Tulika Agrawal
September 06 2019
Few months back, there were news about water scarcity in reservoirs and alarmingly diminishing water lable in the country. Also, sub-normal monsoons were predicted which made the water scarcity problem more acute. Today, as you all know, whole of India has seen excellent monsoon and now the news is about excessive rains and floods. Reservoirs are full beyond capacity and excess water is released. Within 3-4, monthly only, the whole scenario of water crisis has changed to water surplus.
What it tells is, 'Nothing is constant except change'.
Similarly, economy and markets are also dynamic and impacted by various factors like inflation, fiscal policies, global events etc. These days, media is full of negative news about economic slowdown, US-China Trade war, Rupee reaching new low etc. etc. Though there is no denying that some pockets in economy are facing difficult times but excessive negative news compounds the pessimism and fear amongst stake holders. As a result, its impact increases many folds leading to adverse behavior by investors.
But as seen historically, these situations remain for short period only. How quickly the headlines can change from negative to positive, and how the fortunes of our investment turn from poor to excellent, we present below a real investor's experience.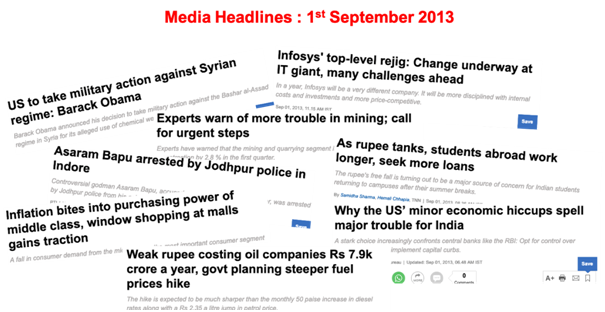 From the above headlines it seems as if everything is going wrong in the world. On the same day, the portfolio of one of our investors looked like this.
Client Portfolio on 1st September 2013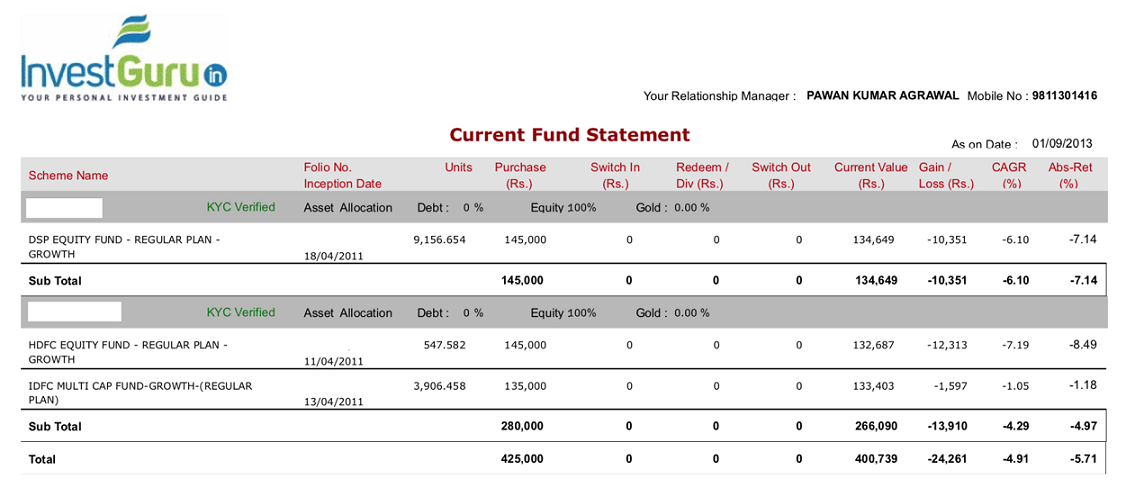 The above portfolio shows values after the client has already invested 4.25 lacs through 15k per month SIP for approx.. 2.5 years. As you can see, the value of his investment of Rs. 4.25 lakhs was down by almost Rs. 25,000/- and annual returns were -5%. He was very upset with the negative returns from his portfolio and was on the verge of exiting from all this investments. But as we reminded him about strength of equity investments and their long term nature, he continued with his investments(though he stopped his SIPs three months later). He remained invested and waited patiently for the time to become favourable again.
As mentioned earlier, things don't remain the same for long. Just 15 months later, the newspapers were full of optimism and read like this.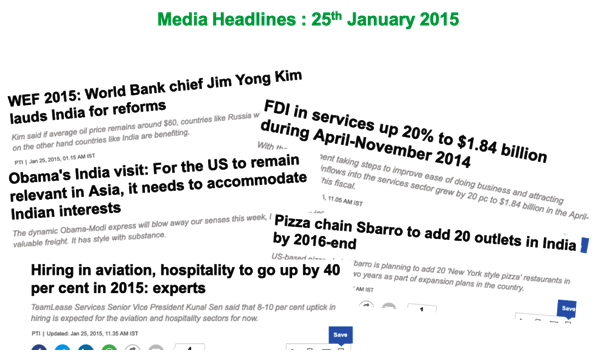 The portfolio of the same investor looked like this on 25th January 2015.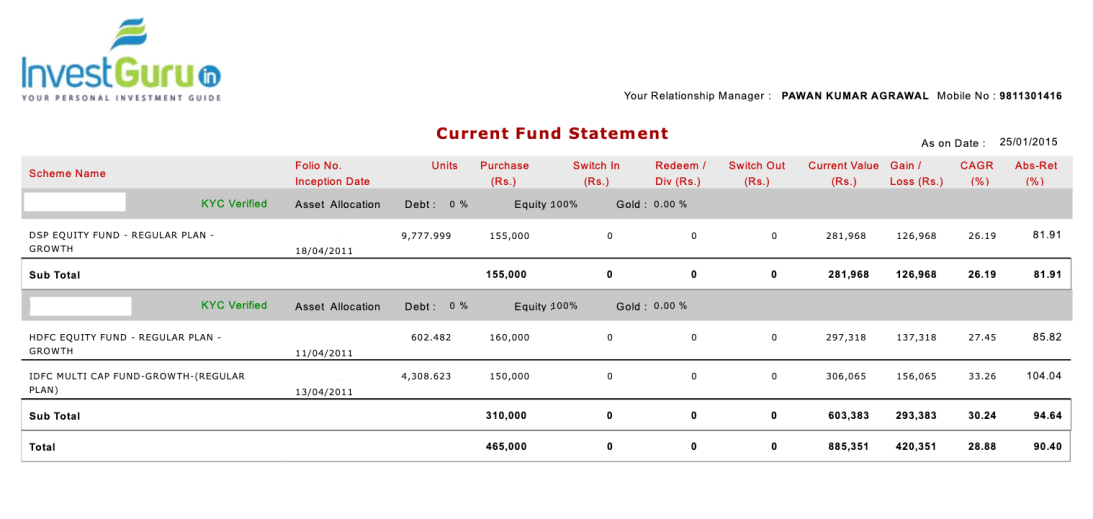 How the times change is evident from this fact. The value of his investment of Rs. 4.65 Lakhs had grown to Rs. 8.85 Lakhs. This is a gain of 4.2 lacs from a investment which was actually showing loss of 25000 just 15 months ago. Due to his patience, he earned an annual gain of more than 28% (in 4 years of starting his SIP), which is in line with the minimum time which is supposed to be given to equity investments to perform. Now, he is one of our many ardent mutual fund investors with many of his financial goals in place.
Conclusion:
In many instances, we have seen that change in news headlines from going negative to positive is only a matter of few months to couple of years. This is neither the first nor the last time that we are surrounded with negative news about economy and growth.
Though stock markets are said to be the barometer of an economy, but at the end of the day, swings in the stock market are caused by human beings. Their behaviour is driven by the flow of positive or negative news, which in turn shape the market movements in the short run. Historically, many times we have seen deep and long corrections in the stock market followed by a sharp and steep recovery.
Wealth creation through equity comes with its own ups and downs. Unfavorable times are part of economic cycle but does not remain so for long periods. Patience and optimism can help us tide through these short-term phases. Those who weather through these testing times are the real winners in the field of wealth creation.
As always, your views and feedback on the above are welcome.
Happy Investing!
Tulika Agarwal
Co-Founder, Investguru